"988" is the three-digit, nationwide phone number to connect directly to the 988 Suicide and Crisis Lifeline
988 has been designated as the new three-digit dialing code that will route callers to the National Suicide Prevention Lifeline.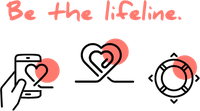 The 988 brand embodies the 988 Suicide & Crisis Lifeline's ideals and goals. Built on a concept of connecting with those who are experiencing suicidal or mental health crises, the 988 Suicide & Crisis Lifeline brand primarily seeks to offer a sense of hope. We want that hope to encourage people to call, chat or text 988 if they or a loved one are in a suicidal or mental health-related crisis.