Manistique School & Public Library
Manistique School & Public Library
"So many books, so little time!"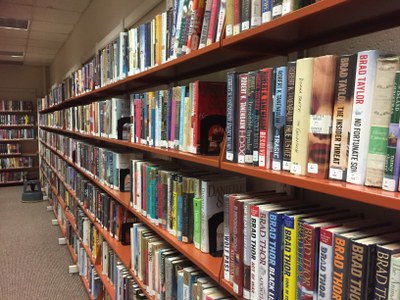 The Manistique School & Public Library has 35,000 titles, available digital downloadable ebooks, audiobooks and magazines.  We have a newly created Makerspace.  We have Internet and computer access.  Our library is a large comfortable space that is flexible to our communities needs.
Microfilm
The MSPL has all local papers on microfilm dating back to the late 1800's.  Ask the librarian for assistance in locating the date that you are interested in viewing.  These newspapers are now available online through https://uplink.nmu.edu.  
A collection of donated cake pans that started about 30 years ago.  We are more than happy to accept donations of cake pans to add to our collection.
Manistique High School Digitized Yearbooks (click here)

About a year ago we decided to digitize all the MHS yearbooks that we had in our collection.  Click the link above.  It will take you to a drive where you can click on the year that you are interested in and look at the yearbook.  
Manistique School & Public Library Articles published in the Manistique Pioneer Tribune.
A Help Desk Supporting Community
The Library staff is here to assist community members new and old in finding the resources they need.  Whether it is something that we offer or if it is an offering in our community.  We would like to be the source that can answer your question about local interests.